The best way to determine your finger size is to visit at least one reputable jeweler. A second opinion is advised.
Some jewelers may disagree, but often there are discrepancies in the sizing tools made by different manufacturers.
If you want to place an online order to guarantee the sale price, you can do so, in the comment box clearly
explain that you will call us back with the correct size, once determined by a jeweler. We will hold the order
for a maximum of one week.
Most jewelers will have the following finger sizing tools.
Jeweler's finger sizing tools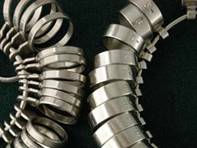 The narrow set should be used if you intend on wearing a narrow band, 5mm ring width or less.
The wider set should be used if you intend on wearing a band 6mm width or more.
If you are measured using the narrow sizing set, and plan to wear a wide band
(6mm or wider), you should add 0.25 or 0.5 more to the size.
Accurate ring sizing can be tricky. Everyone has different shaped fingers and knuckles. A well fitting ring should
sit comfortably on the finger, and have some resistance coming off. Everyone's hands changes throughout the day,
swelling does occur. The best time of day to have your finger sized is in the afternoon.
If you are unsure about the exact size, it is always best to go with the slightly smaller size. We can increase
a ring
by a 0.25 size larger, but if it ends up too big it has to be remade.
Jewelers use two different methods of measuring.
Some jewelers measure from the center line of where the ring falls on the mandrel.
Other jewelers measure from the bottom line of the ring, where it lands on the ring mandrel. At Importex, we use this method.
The rings in the picture below measure American size 8 and 10 using our sizing method. All rings made by Importex are
comfort fit; the inside edges are rounded for a smooth comfortable fit.
Ring sizing mandrel
Importex uses American/Canadian sizing to make all its rings, we offer a general size conversion table for
other methods of sizing.
Importex is not responsible for wrong sizes determined by customers using other companies sizing methods.
IE: paper or string methods, etc. (These are NOT accurate)
Please note, European or International methods of sizing do not correspond exactly to North American sizing.
The most accurate way for European or International customers to determine their ring size is by using the
inside diameter method. (In the comment box on the order form, give us the sizing ring diameter in mm's to
the second decimal point.)
The sizing ring used for measuring should be the same width as the ring being ordered.
Conversion Chart
US/Canada
Ring sizes

Inner
Diameter

Inner
Diameter

Inner
Circumference

Inner
Circumference

British,
Irish,
Australian

sizes

Japanese
sizes

Swiss
sizes

Standard

(inches)

(mm)

(inches)

(mm)

Equivalent

Equivalent

Equivalent

0

0.458

11.6

1.438

36.5







1/4

0.466

11.8

1.463

37.2







1/2

0.474

12.0

1.488

37.8

A





3/4

0.482

12.2

1.513

38.4

A 1/2





1

0.490

12.4

1.539

39.1

B

1



1 1/4

0.498

12.6

1.564

39.7

B 1/2





1 1/2

0.506

12.9

1.589

40.4

C





1 3/4

0.514

13.1

1.614

41.0

C 1/2





2

0.522

13.3

1.639

41.6

D

2

1.50

2 1/4

0.530

13.5

1.664

42.3

D 1/2





2 1/2

0.538

13.7

1.689

42.9

E

3

2.75

2 3/4

0.546

13.9

1.714

43.5

E 1/2





3

0.554

14.1

1.740

44.2

F

4

4.00

3 1/4

0.562

14.3

1.765

44.8

F 1/2

5

5.25

3 1/2

0.570

14.5

1.790

45.5

G





3 3/4

0.578

14.7

1.815

46.1

G 1/2

6

6.50

4

0.586

14.9

1.840

46.7

H

7



4 1/4

0.594

15.1

1.865

47.4

H 1/2



7.75

4 1/2

0.602

15.3

1.890

48.0

I

8



4 3/4

0.610

15.5

1.915

48.7

J



9.00

5

0.618

15.7

1.941

49.3

J 1/2

9



5 1/4

0.626

15.9

1.966

49.9

K



10.00

5 1/2

0.634

16.1

1.991

50.6

K 1/2

10



5 3/4

0.642

16.3

2.016

51.2

L



11.75

6

0.650

16.5

2.041

51.8

L 1/2

11

12.75

6 1/4

0.658

16.7

2.066

52.5

M

12



6 1/2

0.666

16.9

2.091

53.1

M 1/2

13

14.00

6 3/4

0.674

17.1

2.116

53.8

N





7

0.682

17.3

2.141

54.4

N 1/2

14

15.25

7 1/4

0.690

17.5

2.167

55.0

O





7 1/2

0.698

17.7

2.192

55.7

O 1/2

15

16.50

7 3/4

0.706

17.9

2.217

56.3

P





8

0.714

18.1

2.242

56.9

P 1/2

16

17.75

8 1/4

0.722

18.3

2.267

57.6

Q





8 1/2

0.730

18.5

2.292

58.2

Q 1/2

17



8 3/4

0.738

18.7

2.317

58.9

R



19

9

0.746

18.9

2.342

59.5

R 1/2

18



9 1/4

0.754

19.2

2.368

60.1

S



20.25

9 1/2

0.762

19.4

2.393

60.8

S 1/2

19



9 3/4

0.770

19.6

2.418

61.4

T



21.5

10

0.778

19.8

2.443

62.1

T 1/2

20



10 1/4

0.786

20.0

2.468

62.7

U

21



10 1/2

0.794

20.2

2.493

63.3

U 1/2

22

22.75

10 3/4

0.802

20.4

2.518

64.0

V





11

0.810

20.6

2.543

64.6

V 1/2

23



11 1/4

0.818

20.8

2.569

65.2

W



25

11 1/2

0.826

21.0

2.594

65.9

W 1/2

24



11 3/4

0.834

21.2

2.619

66.5

X





12

0.842

21.4

2.644

67.2

X 1/2

25

27.50

12 1/4

0.850

21.6

2.669

67.8

Y





12 1/2

0.858

21.8

2.694

68.4

Z

26

28.75

12 3/4

0.866

22.0

2.719

69.1

Z 1/2





13

0.874

22.2

2.744

69.7



27



13 1/4

0.882

22.4

2.769

70.3

Z1





13 1/2

0.890

22.6

2.795

71.0







13 3/4

0.898

22.8

2.820

71.6

Z2





14

0.906

23.0

2.845

72.3

Z3





14 1/4

0.914

23.2

2.870

72.9







14 1/2

0.922

23.4

2.895

73.5

Z4





14 3/4

0.930

23.6

2.920

74.2







15

0.938

23.8

2.945

74.8







15 1/4

0.946

24.0

2.970

75.4







15 1/2

0.954

24.2

2.996

76.1







15 3/4

0.962

24.4

3.021

76.7







16

0.970

24.6

3.046

77.4